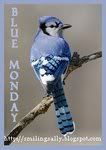 A couple of weeks ago, I had the pleasure of bluebirds visiting my deck again. I've been looking for them every day since then, but they haven't returned. Yet.
Today, I thought I'd share a few of the 1000+ photos I took that day. Some were pretty good, in my opinion. Most were not. But they were all thrilling.
This is the closest I have to a true macro shot.
In most places, this is a good time to put up bluebird nesting boxes. I just put up one box and have two others to put up soon. Bluebird boxes can be bought many places, but I found our local Lowe's had a super price on them. If you like bluebirds and dislike bugs, I highly recommend placing nesting boxes around your property. Around here, if you don't wind up with a family of bluebirds, you'll likely get a family of House Wrens. They're adorable and eat bugs, too.
As always, click on any photo for a closer look. Don't forget to stop by
Lisa's Chaos
and
Smiling Sally
to see what macro and blue things this Monday brings.

-Susan