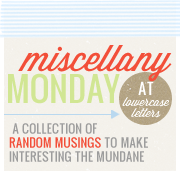 Happy Monday morning, everyone!
I'll head straight to my miscellany Monday.
(one) My baby is one year old! I can't believe that the first year has gone so quickly!
Hug your babies while they are still babies!
(two) We are very selective about television viewing for Stinkerbaby, but Batman and I are both quite happy that one of her favorite DVD's is Schoolhouse Rock. It's even nice for the grown-ups in the room! And, boy, does it bring back memories!
(three) Now for my restau-RANT: Why do most restaurants assume that you are at the restaurant to ignore the people you are dining with and that the sole purpose of being there is to watch television? I recently went to a new place in town and it was so loud conversation was difficult. There were four televisions on withing my viewing. Why?! This wasn't a sports bar. That I understand. For those of us attempting to prevent our babies from watching any television before two, it's especially tough! I won't be back to that particular restaurant, but most of the sit-down places locally have not simply a television at the bar,
but 3-5 throughout the place!
Don't these people have T.V.'s at home? I thought the purpose of restaurants was to enjoy the company of friends and family and have some good food. The food wasn't even that great.
I very much appreciated being taken out to the aforementioned food establishment, but I suppose this is just further proof that I am not mainstream!
(four) This past month, I rediscovered my love of budgeting. Before kids, we always used a budget. Since kids, that has not been as regular. And when we did budget, we didn't do it honestly, some things "didn't count." Last month, we budgeted for real. It was so nice telling all our money where to go and watching it behave! Budgeting really makes me feel wealthy, when really we are financially in about the same boat as most families with small kids and a stay-at-home mom.
(five) I have discovered the best yellow cake recipe. Ever. Seriously. How could it not be good with two sticks of butter and eight egg yolks?
David's Yellow Cake
I even made it with half whole wheat flour, and it's still light and yummy!
(six) Time for more coffee. Stock up; the price of coffee is climbing.
Have a great week, and don't forget to check out
lowercase letters
and link up your own random Monday thoughts!
-Susan