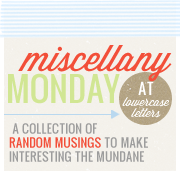 This is a first for me. I'm trying to link my random Monday thoughts with others. We'll see how it goes.
(1) I have a lot to learn about blogging. I mean a LOT. This Miscellany Monday is a first step in learning more.

(2) Why is it that baby fingernails feel like puppy claws unless they are trimmed practically daily? Sweet baby, sharp nails.

(3) I have "discovered" a new cloth diaper that I just love! It's like a better made version of my current favorite. I'm dying to order more and talk about it.

(4) Nursing my sweet baby is one of my favorite parts of my day, even when he scratches me.

(5) We have a new dog in our house these days. She's my mom and dad's elderly lab. Even my dogs are second hand.

(6) My dentist is the best. He really is. I just got a reminder call for an appointment. Everyone in his office is great. That's why I am willing to drive an hour and a half to go see him.

Hope you have a happy Monday!
-Susan