Last night, as I was bemoaning the fact that I still didn't have a macro shot for Monday, I really looked at this shot of my son. Well, duh! It was shot in macro!
So, although not my typical photo, here is my entry in
Macro Monday at
Lisa's Chaos
.
And now for the miscellany for Miscellany Monday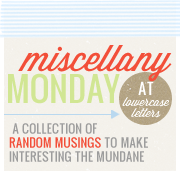 1. I'm not through Christmas shopping. There. I said it. I'm a slacker. I do, however, have a pretty clear idea of what is to be bought or made for everyone. At least that's something.
2. My favorite cream of broccoli soup is from Cork and Cleaver. I know they must have other items on their menu, but the soup is sooo good, that's all I ever get. And now, after many failed attempts, I have a suitable copycat recipe! I may even share it, if you like. Beware, it's not for those afraid of fat! It's yummy and satisfying, assuming you like broccoli soup!
3. One good thing about the cold weather is that the birds are more anxious to visit my feeder. In addition to the usual (but still wonderful) chickadees, nuthatches, and titmice, I have had goldfinches, wrens, cardinals, blue jays, and purple finches. Once I get some beef suet out, I am hoping for some woodpeckers!
Here is a male Purple Finch.
4. I found a super-special lucky find at my favorite thrift store last week. It's a Fisher Price Power Wheels VW Beetle. Yes, Sarah, it's yellow. It had no battery or charger, and a price sticker with $20 on it. It knew it was the tag from the yard sale where it didn't sell before it got donated. When I asked the price, I was told two dollars! Yippee! After severe cleaning, a battery and charger, and some connectors fro RadioShack, it works! Both kids are thrilled even though I led them to believe (a.k.a. lied) that the car was a gift for an out of town cousin. It told my daughter that I needed her help "testing" it. I know, I know, but the kids were with me when I spied the car and I had to say something.
5. We went to the Christmas parade over the weekend. It was freezing and spitting snow, but the kids both had a great time. Fortunately, we have friends with a house on the parade route, so we had a place to warm up. I wrapped my son in my woven wrap and he was toasty warm. His body heat even kept me warm!
That's it for today! Now if Blogger will only save this and let me post it, I'll be all set for the week!