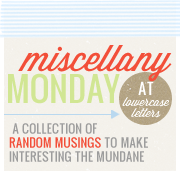 Randomness, here I come!
1. It snowed here. A lot. Like maybe five inches. We're snowed in. I'm now officially ready for spring.
2. It's cold. Really cold. Ten degrees and windy. Did I mention that winter is my least favorite time of year?
3. The day after my titmouse adventure, I had a similar thing happen with a Carolina Chickadee. He did not wait to be photographed, however.
4. The snow is beautiful, but I can't bear to get out to take pictures. After about 15 seconds out, I came back inside. I don't handle the cold well.
5. The birds are enjoying the seed and goodies I have put out on the deck. I've seen a different wren this morning- maybe a house wren or winter wren. All I know for sure is that it was much smaller than the Carolina Wrens we typically have.
6. It must be Monday, I'm washing diapers. Of course, based on that alone, it could also be Wednesday or Friday or possibly Tuesday, Thursday, Saturday, or Sunday.
7. It is time for more coffee. Maybe after that I can get some Christmas gift stuff done today.
Hope you have a good and productive week. Stay warm!
-Susan