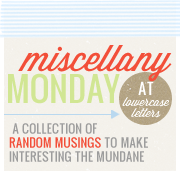 Well, it's been a critter filled weekend! I think for this week's Miscellany Monday, I'll detail the various things I saw.
I got to visit with my baby sister a little this weekend. Okay, she no longer qualifies as a critter, but she sure did when we were kids! She is anxiously awaiting her first baby, and we are anxiously awaiting her baby, too! Stinkerbaby asks me every morning, "is today the baby's birthday?" We still have a few weeks to go.

We had a Baltimore Oriole in our yard this weekend. He was a strikingly beautiful male. I haven't seen one in years. I think I'll buy some oranges at the grocery and try to attract him or his wife closer.

Praying mantis sightings have been happening all weekend long. Batman directed me to a medium sized green one on the porch. My mom spotted a brown one on the play room window. I saw one on the seed feeder. That one is still there this morning.

We have had a little more rain and a few more Bird-voiced Tree frogs, including one on the shutters this morning.

Yesterday, my usual Eastern Fence Lizard and my typical Five-lined Skink were posing (okay, basking) in the sun. As I moved in for a closer look, I noticed a lovely, striped snake right where I was intending to step. Luckily, I didn't step on him and I did have my camera. After examining the photos, I think it was a Common Garter Snake. There are a few snakes I can easily identify- the local poisonous ones! The rest I have to look up.

Since I'm being random, let me also mention, that if you are outside and suddenly smell fresh cut cucumbers, be careful and look around for a Copperhead. Seriously, they smell like cukes!

The real critter stars of the weekend were the hummingbirds. I have had up to 15 at one time that I could count! They buzz me on the deck. You'd think that would lead to some amazing photos. Well, not quite. But it's fun anyway!

An immature male Ruby-throated Hummingbird got onto my porch. I made the mistake of cleaning the windows and leaving the door open for fresh air. He sounded like a really big bug up against the glass. Then he chirped! I found him and carefully picked him up under his wings and launched him out the door. He was fine! No photos of that little guy, I was afraid of giving him a heart attack. It was thrilling!
Hop on over to
lowercase letters
and see what miscellaneous things this Monday brings.
Happy Monday!
-Susan